Korean Media in US
The Korea Daily is the most read and largest Korean media in US and Korean language publisher, both newspaper and online media, serving breaking news, local news, national and international news since 1974. It has bureaus nationwide in Los Angeles, New York, Washington D.C., Atlanta, Chicago, San Diego, San Francisco, Denver, Vancouver and Toronto and is headquarted in Los Angeles.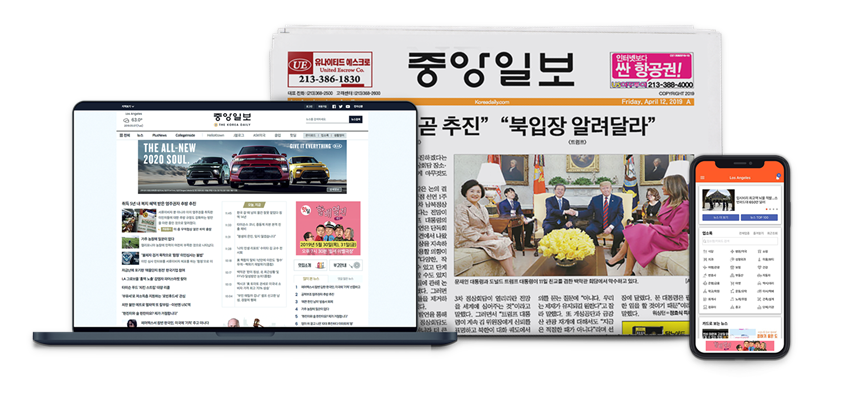 Advertise with us
For general inquiries, use the email addresses below and your message will be passed along to the appropriate person.
Korean Website : www.koreadaily.com
English Website : www.koreadailyUS.com
Los Angeles Office(HQ)
690 Wilshire Place Los Angeles, CA 90005
Hours : Mon-Fri, 9:30 am – 6:30 pm
E-mail : choi.hanearl@koreadaily.com
Our Mission
Established in 1974 with the launch of its flagship media, the Korea Daily has served to bridge mainstream America with the Korean and Korean American communities.
We carry out our duty to better serve 2 million Korean Americans through our proud community services including "One Stop Consulting Services" that provide information and educational services vital for Korean immigrants.
We represent the true voices of Korean Americans, and we continue to serve as the frontier in raising voices and power of Korean community.
Our Network
We have the largest korean media in US network.
Headquartered in LA, we operate 8 regional offices mostly in metropolitan areas including Los Angeles, San Francisco, New York, Chicago, Washington DC and Atlanta, which enable our advertisers to communicate nationwide through one single channel.
New York (718)361-7700
Atlanta (770)242-0099
Washington DC (703)281-9660
Chicago (847)228-7200
San Francisco (408)986-8000
San Diego (858)573-1111
Denver  (303)751-2567
Vancouver (604)544-5154
Toronto (416)736-0736